Sunflower seed edible oil refining machine and Edible soybean oil production line manufacturer
| | |
| --- | --- |
| Model Number | Refinery-G840-2 |
| Brand Name | QIE |
| origin | China |
| Small Orders | Accepted |
Key Specifications Special Features:
In order to get pure and relatively high quality edible oil after pressing, the crude oil refinery will use our refining equipment to remove impurities in the oil. such as saponin,fatty acid, phosphatide, pigment. The refined oil reaches the edible oil standard while finished refining process.
Crude oil refinery use our refining equipment to remove impurities from the oil in order to obtain pure, relatively high-quality edible oil after pressing. Such as saponins, fatty acids, phospholipids, pigments. The refined oil reaches the edible oil standard during the refining process.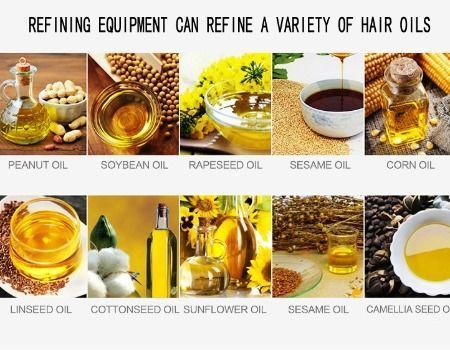 Oil refining line Application:
Our refining machine is suitable for refining various of crude oil, vegetable oil, such as palm kernel oil, sunflower seed oil, tea seed oil, peanut oil, soybean oil, corn oil, groundnut oil, rapeseed oil and so on.
Oil refining line Advantage:
1.304/316 SUS
2.Customized crude oil refining line capacity. We customize plant as per your requirement for the capacity.
3. Flexible use. Crude oil refining lines can work individually or in conjunction with the entire oil production line.
4. Two sets centrifugal machine make sure all continuous production , degumming result is very good.
5.The refined oil has high quality and is good for long time storage.
6. Oil can reach national standard(LEVEL 2), it can be sold in supermarket.
Sections of process:
(1).P-acid degumming operation:
Drawing the filtered or settled crude oilinto the neutral pot, control oil temperature 40 ° C, liquidlevel cover theneutral pot volume about 80 %.Add into theneutral pot Pacid with 85% concentration, 0.1-0.2% oil weight.Start up neutral pot, make main shalf stirring at 60-70 r/min, finish de-gumming in 30 min.
Adjust the neutral pot oil temp to about 85 °C, add into hot water whose temp higher oil temp 10-15° C, the water use amount each time is 10-15% oil weight.
(2)alkali de-acid operation
After finish degumming process, at once add into lye carrying alkali refining deacid, lye concentration 16 ° Be ′, super alkali is 0.1to0.3% oil weight, after finish adding, continuous stirring 30min, when soap particles accumulated condensing, should reduce stirring speed, 30r/min avoid emulsion. After adding alkali, gradually rising temp to the end temp 65 ° C, see to that the rising temp speed should control at 1 degree per minute, not too fast. Shut off neutral pot drive part, theoil settled in the pot 6-8 hours, make oilseparate from soap.
(3).de-coloring:
Pump the neutralized oil into the decolorizer, also stir and heat up to 90 degrees, and stir for 30 minutes to reduce the moisture to 0.1%, then add a little clay (decoloring medium) to account for 24% of the total oil, stir for 30 minutes, Lower the temperature to 70 degrees, then filter the clay with an oil filter to decolorize the oil .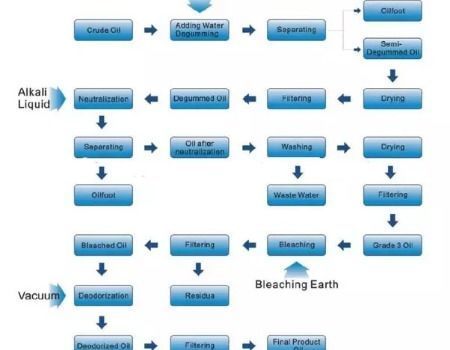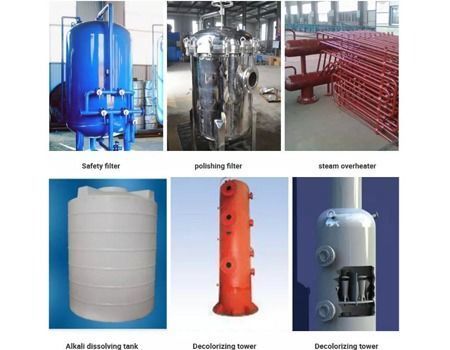 What can we supply:
1). Craft flow chart;
2). Equipment layout drawing;
3). Equipment base drawing;
4). Reserved hole & embedded parts drawing and civil engineering condition drawing;
5). Embedded pipeline layout drawing;
6). Embedded pipeline of power circuit drawing;
7). Power electricity layout drawing;
8). Electricity distribution cabinet and operation table schema;
9). Plant layout drawing.
Our service:
Pre-Sales Service
* Inquiry and consulting support.
After-Sales Service
* Training how to install and function the machine.
* Engineers available to service machinery overseas.
* 12 months warranty and life spand service available.
* Flowchart and factory design.
* View our Factory.
Shipping Information
| | |
| --- | --- |
| FOB Port | Shanghai |
| Weight per Unit | 30.0 Tons (US) |
| Export Carton Dimensions L/W/H | 48 x 12 x 15 Meters |
| | |
| --- | --- |
| Lead Time | 30–40 days |
| Dimensions per Unit | 48.0 x 12.0 x 15.0 Meters |
| Units per Export Carton | 1.0 |
| Export Carton Weight | 30 Tons (US) |
Main Export Markets
– Asia- Australasia- Central/South America- Eastern Europe – Mid East/Africa- North America- Western Europe